01/03/2018
CHEW IT. MULTI OVERVIEW VOL.6: WHAT'S NEW IN THE WORLD OF MARKETING
What can you eat while chewing mounds of information from the world of marketing?
According to Wikipedia, a llama's upper lip is divided horizontally, which enables the animal to have better control while eating. The llama's stomach is muscular and has three compartments. Even though llamas are not systematically classified as ruminants, from the anatomical and physiological perspective they do chew their food. Just like we do while searching for information online!
2018 is in full swing, which is clear as you browse through trade news. Marketers aren't wasting their time. What did they surprise us with last month? Check out our picks for the best campaigns of February!
1. VIM
In the era of fake news it is quite challenging to move around the web. It turns out that we can come across not only fake information served as truth; there are also fake influencers out there. And we're not talking about buying followers; they are computer-generated characters who live the life of success. They dine at the best restaurants, wear designer brands, party with celebrities, have important friends, and, on top of that, they gather massive amounts of fans. True influencers; however, where there should be flesh and blood, they have pixels and algorithms. Miquela Sousa is said to be the first virtual influencer; she has 625 thousand followers on Instagram. However, it is not clear who, or what, hides behind @lilmiquela What does it mean for our business? Perhaps virtual influencer marketing will become a standard type of service just as influencer marketing is right now.
2. 92nd FACE OF GERBER

Let's not jump too far ahead into the future yet. There are still plenty of things to do in 2018 and they don't necessarily demand advanced technology. Gerber has proved it recently. For the first time in the 91-year history of the "Spokesbaby of the year" contest, the brand's choice was a baby with Down syndrome. Lucas Warren is almost one year old and he's the first baby ever with this condition to endorse Gerber. His image is to be featured in all the brand campaigns for 2018. Since Down syndrome is one of the most stigmatised conditions around the world, the fact that a global brand engages in building a positive image of people who have it is worth appreciating.
3. MR. AND MRS. WALKER
Another global brand has recently decided to go off the beaten track. Johnnie Walker, one of the largest whisky manufacturers in the world, introduced the limited edition of their Black Label as a way to celebrate both the upcoming Women's Day and Women's History Month. The product has been named Jane Walker and it is available in the US this March. Moreover, one dollar of every bottle will be given to organisations supporting women's causes. The brand is intent on increasing the number of female consumers of whisky, since it is still perceived as "man's drink." Interestingly enough, the concept for Jane Walker first appeared two years ago. The brand was planning to introduce it as a way to celebrate the first ever female US president. However, they dropped the idea after Hillary Clinton's defeat.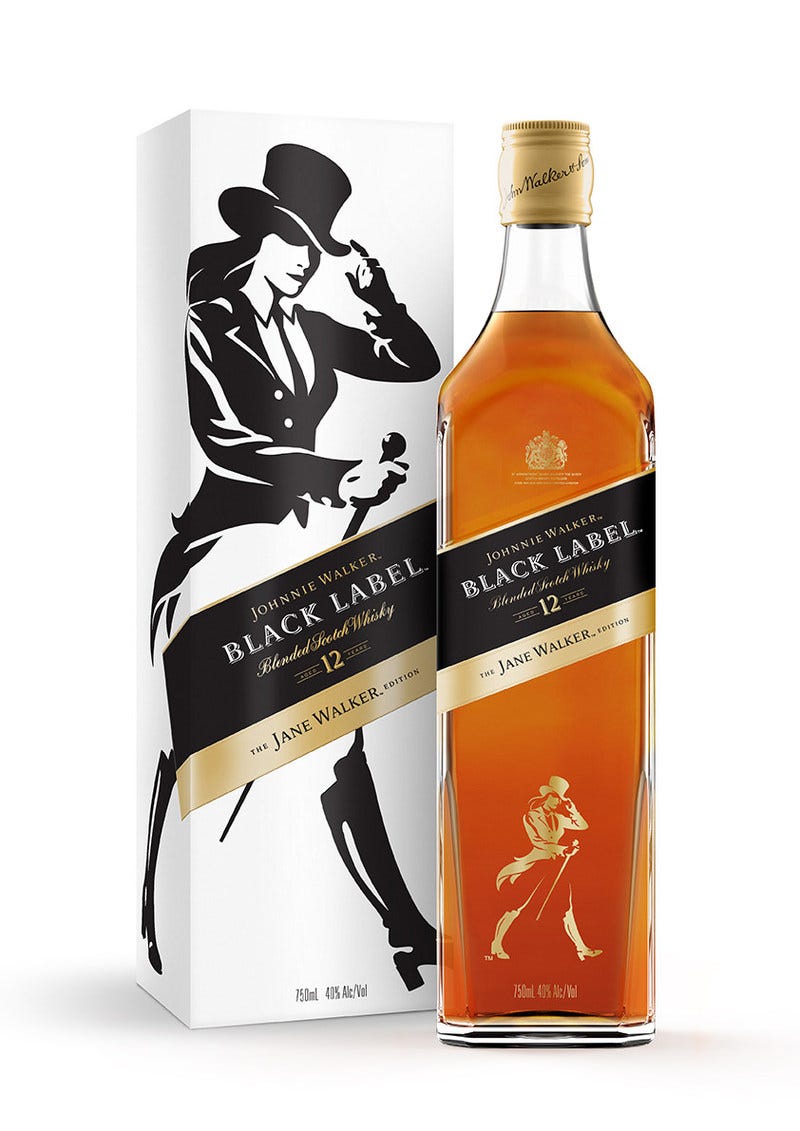 4. F*CK
What's the right way for a lifestyle brand to deal with crisis management? KFC has recently shown how it's done; quickly, humbly and in a funny way. Due to a serious issue resulting from changing their chicken supplier, the brand had to carry out a crisis communication campaign. In 562 of their UK restaurants chaos broke out as a result of insufficient poultry supplies. As it turned out, British people deemed this a national crisis as police were called numerous times to deal with the situation. This disastrous day was, however, a good test on how to communicate with consumers. KFC decided to publish an unusual apology in The Sun and Metro. The full-page ad featured an empty KFC bucket with crumbs in the background; the brand logo was changed into FCK.
KFC's 'our bad' ad is brilliant. pic.twitter.com/CHFU5HDcrO

— Alex Goy (@A1GOY) 23 lutego 2018
The next step was to act on Twitter and inform their customers about reopening their restaurants. "We're knackered and can't think of a funny headline. But great news… over 90% of our restaurants are now back open."
Interestingly enough, one man's problem is another man's opportunity. Burger King used the situation to introduce a new menu, allowing their customers to buy nine chicken nuggets for 99p and Chicken Royale for £2.
Here's a special offer on chicken because we didn't bucket up this week. pic.twitter.com/CTLQx1dRCc

— Burger King UK (@BurgerKingUK) 23 lutego 2018
5. Because of the love towards... food

Let's stay on topic of fast food restaurants for a while; we just have to mention the unusual marketing ideas of KFC and McDonald's. Both giants decided to go for emotional marketing and targeted the lovebirds worldwide. To celebrate Valentine's Day, McDonald's launched a Twitter contest where the main prize was… a Bling Mac Ring. Designed by Nadine Ghosn, the 18k gold ring had seven tiers of gems representing the Big Mac ingredients. To win it, you had to tweet your most creative vow of love, tag @McDonalds and add #BlingMacContest hashtag.
The Polish branch of KFC surprised their fans with another fast-food engagement ring. The outside layer made of 18k gold resembled KFC's signature crunchy coating, while the inside was a 950 platinum engagement ring, adorned with nearly 150 small diamonds and crowned with a 0.7 ct diamond. Apparently, the couples who decide to tie the knot with the KFC ring will receive a special surprise. Anyone?
6. WHAT CAN YOUR SMARTPHONE DO?

Have you ever wondered how many things that you're incapable of doing are possible for your smartphone? Thanks to Huawei, that list can be expanded by driving. Huawei Mate 10 Pro, the world's first AI-powered smartphone, has just made its debut as the autonomous car driver. The project hero is Kirin 970, Huawei's original processor used in Mate 10 Pro which, connected to Porsche Panamera, has 'learned' to drive smoothly and safely. Huawei showcased the smartphone-controlled car during the MWC fair in Barcelona. The RoadReader project went on for five weeks. The goal was to 'teach' the smartphone to recognise various obstacles in a dynamic environment. A special model of Porsche Panamera was used for the tests and Kirin 970's intelligent algorithm was learning how to deal with certain scenarios which might occur while driving, for instance detecting and avoiding obstacles such as a cyclist, a dog or a ball thrown onto the road. After five weeks of tests the Mate 10 Pro was able to recognise the obstacles and select an appropriate driving strategy.
7. Nike London
This spot was loved by millions. A 3-minute Nike ad released as part of the "Nothing Beats A Londoner" campaign is a tribute to sports and music's influence on the city of London. The spot creators say it was inspired by an attempt to bring back the connection between the brand and young Londoners as its recent campaigns have allegedly failed to reach out to them in a genuine way. Nike wanted to reconnect with their consumers as well as evoke an emotional reaction in the city; as a result, the consumer would feel, see and experience the brand in a new way. The spot featured Harry Kane, Mo Farah, Eden Hazard and Alex Iwobie, as well as young sportspeople from London clubs. This way Nike reminded everyone that they're inspired by ambitious kids.
8. Puma Warsaw
Warsaw has recently found out that streetwear brands have to constantly foster their relations with city life creators as well. To celebrate the 50th anniversary of releasing one of their most popular shoe models, Suede, Puma decided to turn to hip hop culture. They collaborated with popular Warsaw rappers to tell the story of hip hop in Poland through music. Vienio, co-creator of Molesta Ewenement, and Kosi, member of JWP recorded "Uliczne Legendy" which, along with a video, was premiered at the anniversary event. Additionally, Puma prepared a special gift for 50 selected artists, sneakerheads, influencers and Polish hip hop creators. They received personalised Puma Suede sneakers featuring their nicknames and specially designed shoelaces.
9. Nissan SneakerHead
You've probably wondered how to advertise products without mentioning them directly. Nissan Motor seems to have found an answer to that. The Japanese automotive company decided to promote their ProPilot autonomous parking system through automation of a traditional restaurant in Hakone, Japan. The guests were presented with intelligent self-parking slippers, equipped with wheels, engines and sensors which allowed the slippers to move around the restaurant and park in the designated spots, which was undoubtedly a strong advantage for the perfection-loving Japanese. Unfortunately, the slippers were not personalised.
10. #GucciChallenge
As showed by Nissan, fashion can carry various trends. The latest Gucci fashion show was clearly the proof. Their collection show at this year's Milan Fashion Week was quite unusual, even given the high fashion capabilities. The models walked the runway carrying replicas of their own heads, as well as baby dragons and lizards. Now there are numerous Instagram posts with the #GucciChallenge hashtag which present people's creative versions of the designer's vision. So far, over one thousand posts have been published.
WE'LL COME BACK NEXT MONTH WITH A NEW SERVING OF NEWS FOR YOU TO CHEW. SEE YOU!
Aleksandra Świetlik, Junior Account Executive in Multi Communications
comments powered by

Disqus